Work with us
"A summer of adventure awaits..."
Thanks for choosing to come and work for us this summer. By choosing us you will be working alongside other enthusiastic motivated staff members from all over the world who come together every summer in the UK, France and Germany, to create an unforgettable experience for our young students.
"I worked for ESE in the summer 2016, 2017 & 2018 (Activity Assistant) and in 2019 and 2020 (Activity Teacher) – I loved the experience of getting together with students and colleagues from all around the world every year. As well as the skills I gained along the way, I was able to grow both professionally and personally. Yes, sometimes it was tough, there are long days and lots of 'crises' but I learnt SO MUCH so fast, I can't imagine a better place for it and cannot recommend it enough."
Ana (24 yrs), Slovenia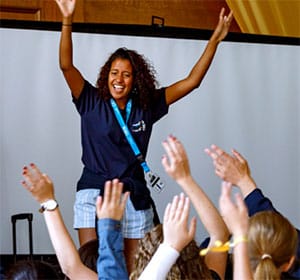 Supervisor
Do you love children, action and want to create amazing activities and unforgettable experiences for our students? Then you are the super- hero supervisor we are looking for!
This job is available in
Activity Teacher
Do you think that teaching language classes, seeing students improve and also having some time to join and help run activities with them, would be a good balance for you? Then, you are the fun activity teacher we're waiting for!
This job is available in
Centre Manager
Are you a natural leader? Could you fully manage an international team professionally? Take responsibility for the smooth running of the centre and be an ambassador for our brand, using all your experience and skills? Then you could be the "boss" we are looking for!
This job is available in
Centre Administrator
Are you with good communication skills and do have some patience? Together with the Centre Manager, the Safeguarding and Supervision Coordinator and the Programme Organizer you are one of the management team members with some responsibilities for the whole summer season.
This job is available in
EFL Teacher
Are you passionate about teaching not only your native language, but a whole culture to international students, making every minute of it enjoyable? Then, you are the teacher our students deserve!
This job is available in
Lead Teacher
Do you have not only the teaching knowledge and experience, but the skills to lead and supervise the teaching team? Then, you are the ideal one to run the academic side in one of our centres!
This job is available in
Programme Organiser
The job of the Programme Organiser is to run a quality activity programme, organise the trips and guide the supervisors. This is a residential position; accommodation is offered on site and includes all meals.
This job is available in
Airport Coordinator
Do you love children, action and want to create amazing activities and unforgettable experiences for our students? Are you organised and able to be the person to create the structure for our students to welcome them in the airport every weekend, and make them feel comfortable and cared from the first minute? Then, the airport coordinator is your role!
This job is available in
What you will gain from working with us...
Travel the world! yes, you can do it working with us, because in every centre in the UK, France or Germany our students and staff are from all around the world! So in just one place and in a few weeks, you'll be able to learn about many different cultures and make international friendships, which in many cases, will lead you to travel the world for real after the summer!
Master the language! working in a native-speaker environment, as well as developing your job role in another language (English, French or German, depending on the destination), will provide you with the opportunity to enhance your language level even more, as well as practice it in a professional context. After the summer you will feel confident and ready to communicate with fluency
New Horizons for your Professional Future Career! in this global world, more than ever, businesses both large and small are looking for people with additional languages and international working experience. People who are able to understand different cultures and backgrounds, who can work together in international teams, and communicate effectively in a work environment are highly sort after. You will get ALL of that working with us, which will open new opportunities in your career. We will provide you with references and reports to prove your added value!