Our Educational Goals
The future holds many opportunities, but also challenges. We want to prepare children and teenagers for life in the global world of the future. We try to let students acquire knowledge that will help them to cope with life in a foreign country. During your language holiday we want to encourage you to explore your talents and find out what you really like to do. We want you to learn more than a language! More than 500,000 children and teenagers have so far improved their language skills with us and for more than 35 years, we have focused on our aim to give international students an intense learning experience and lots of fun at the same time.
Lessons
In the lessons, we want to help you improve your language skills. At the same time you will learn a lot about the host country – and by meeting native speakers you will start to understand the people and their culture much better. We will do presentations, interviews and role plays during our classes, all of which will help your personal growth.
At the end of the course you will get a certificate which shows your learning success.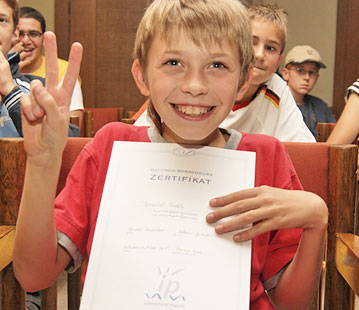 A certificate proves your language ability
Activity Programme
Our activity programme will see you follow your interests and also try a lot of new things. In our language schools we build our programme around the topics of creativity, sports, lifestyle and culture. Discover hidden talents in our 'Got Talents' workshops, enhance your creativity in the Arts & Crafts workshops or test your limits in the Sports workshops. In our Lifestyle programme you can learn about fashion and music or go on a trip to learn about people and culture. Or you can do what holidays are made for: chill with your friends in the 'IP Ocean Lounge'.
Test your limits in our sports workshops
Your Temporary Home
All the centres are in towns and cities that are exciting and offer a variety of things to do. The language courses take place in bright spacious classrooms, have modern equipment and offer enough room for different teaching styles.
Also the campuses of our language schools offer a variety of sports and leisure facilities, which we use for our programmes, but which you can also use individually. In our 'IP Ocean Lounge' you will meet a lot of different people from different countries. You will certainly find someone who shares your interests!
Supervisors
The supervisors who work for us are carefully chosen and come from different countries. They all have different experiences and talents, which they will integrate into the programme.
One thing they have in common: the fun they share bringing together international children and teenagers! Our supervisors accompany you during your holiday. They will support you at all times!